Specialised in e-bike helmets, speed pedelec helmets and bicycle helmets with visor.
Are you looking for a safe and sporty bicycle helmet ladies or bicycle helmet men? Then you've come to the right place, because we have over 100 types of bicycle helmets from the TOP brands: CP, Casco, Cratoni and MET. Bicycle helmets with visors are often used as e-bike helmets and are becoming more and more popular due to the many advantages (e.g. ideal for spectacle wearers, protection against wind and insects). We also have MTB helmets, road bike helmets and bike helmet accessories.
Unique service - choose your own visor with free fitting for CP & Casco bike helmets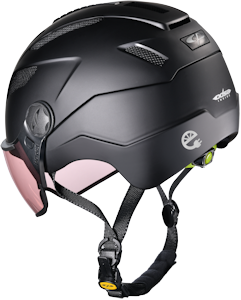 Are you still in doubt about the type of bicycle helmet or visor and would you like to be able to choose the type of visor yourself? Then there is good news, because we offer the unique service of customising the helmet for free. This service is possible when you want to buy the helmet online. However, the choice of visor and the free customisation are only possible for CP helmets and Casco helmets. This is not a catastrophe, because they are both top brands and CP is the No.1 in visor helmets.

Recently, CP and Casco have also introduced speed pedelec helmets and CP even offers them with a fluorescent outer shell (glow in dark). At CP you can choose between a clear or multi-coloured visor for the CP Carachillo and Chimayo +. Casco has a choice of 7 types of Speedmask visors that we can fit on the Casco Speedairo 2 and Casco Roadster. You can even see in the pictures (see some examples below) how the bike helmet will look with visor! If everything is to your liking, you can order the customised bike helmet.